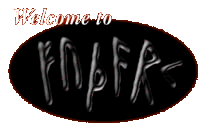 This little game is something I created for fun in the autumn of 1998. Considering it's limited size it was an awful lot of work - I think - and it is not, as I've written here before, going to grow into a CD version.
but
Read this page first!
You will be happier that way.
Adjust contrast and lightness if necessary. The unlit rooms are quite dark, though not completely black.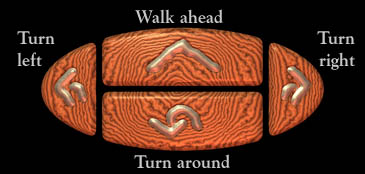 You can move around using the wooden buttons as shown above. Silver arrows indicate possible movements. You can also move by clicking in certain areas in the image, as shown below. Clicking in the image might also reveal closer looks of certain interesting items, like the logfire.
Note: There will not be such shortcuts for all interesting items.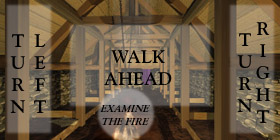 When you come across items that you can pick up, they will be shown to the left of the movement buttons. Click on an object to take it. It will then be moved to the right of the buttons, with links that let you examine and drop it.

DROP
EXAM
Additional uses of objects will be revealed either by additional links when they are examined or in some other way whenever appropriate (you might not know that the steel is used to make fire with, unless you bring it with you when you examine the fire).
As you explore the hall, time passes - the amount of ambient light varies, lights go out etc.